DISTRICT & CLUB INFORMATION
2021 Brain Bowl
Due to Covid, we are doing a modified Brain Bowl. Please check out the Brain Bowl Powerpoint for details: Brain Bowl 2021 Powerpoint

Please go here for Volunteer information & training:
https://www.facebook.com/events/2810645972489939/
2021 Oratorical
If you would like information on how to put on a virtual Oratorical Contest, please go here for more information: https://www.optimist.org/documents/Online_Oratorical_Guidelines.pdf
Officer Training
Training for Lt. Governors, Club Presidents and Secretary/Treasurers must be completed before the Special Convention. Officers must use Optimist International's new Learning Management System (LMS) to complete their mandatory training. It is free for officers. Please go here for more information: https://www.optimist.org/member/learning-management.cfm
The following Training videos can be found under the Members tab in the top right corner of the website:
Club Secretary/Treasurer Training
New Club President Training
Veteran Club President Training
Lt. Governor Training

Contact Charlie Neumann, Gunar Neuman or Nicole Powell for questions. 
Colorado/Wyoming Optimist Member Awards
Rookie of the Quarter
Awarded to a member who embraces the OI Creed along with their volunteerism during their first year.
Club Project of the Quarter
Awarded to a club that conducted a project that has "Brought out the Best" for the youth in our communities. This project must be completed within the current year.
Optimist of the Year
Each club can submit one nomination. The nominee can be either an old or new Optimist who has demonstrated an exemplary example of Optimism in the club and community, the award presented by Gov. Tony Carpenter
Deadline: January 30, 2020 2nd QTR
Deadline:  April 19, 2020 3rd QTR
Deadline:  August 10, 2020 CONVENTION
Contact:   Charlie Neumann 303 766-9649   Email: neumann-charlie@comcast.net
Sponsor 3 New Members Award
Receive a $50.00 gift certificate to your favorite restaurant (or other) by sponsoring three new members into your club during the 2019-2020 Optimist Year.  Awards will be presented quarterly.
Contact:  Curt Merrill 303 589-3000   Email: c_merrill@comcast.net
Download the 3 Member Award (FLYER)
District Strategic Growth
Stratgro is Coming Back!
The Strategic Growth Committee is starting again 1/16/2021 at 10:30 a.m.! We will then meet on the third Saturday each month from 10:30 a.m. – 12:00 p.m.
STRATGRO is the opportunity we have to bring back vitality to our clubs, connect with one another as leaders, and give others the opportunity to join and/or build their own clubs.
Former Governor Linda McDonald's theme was "We're Better Together!" There is synergy that is produced when there is a room full of Optimists who share the same platform of providing hope and positive vision, so we bring out the best in our youth, our community and ourselves.
WHO – Officers & Members
WHAT – Strategic Growth Gathering
WHEN – Third Saturday of each month
TIME – 10:30 a.m. – 12:00 p.m.
WHERE – Zoom
WHY – Encourage and spread optimism
Please join us to "Put the Pieces Together"!
PGI (Professional Growth & Improvement)
The PGI Program offers 7 basic tenets allowing club members to have an opportunity to become involved in Personal Growth and Involvement, both personally and for their club and district. From the day a member accepts their own PGI Passport the road to Leadership and increased involvement in the mission of Optimists is greatly enhanced. As the member works their way through the 10 levels of accomplishment wonderful things manifest. Validation of involvement in Club activities, Membership Growth and increased camaraderie are but a few benefits of the PGI Program. PGI is based on supporting the standards of being a good Optimist, benefits received when joining an Optimist Club, new leadership challenges, recognition for accomplishments, better understanding of the O.I. Organization, worldwide promotion of our Optimist philosophy and the personal support rendered to Club Presidents on a yearly basis.
Phil Perington, PGI District Chair, perington@msn.com, 303-832-4578.
Respect for Law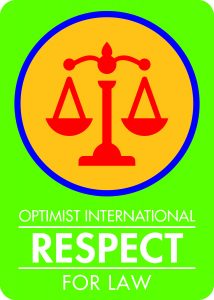 Susan and John Swanborg, Respect for Law Chairs, jswanborg@comcast.net

Social Media & Technology
Clubs looking to get a Facebook page or a website can get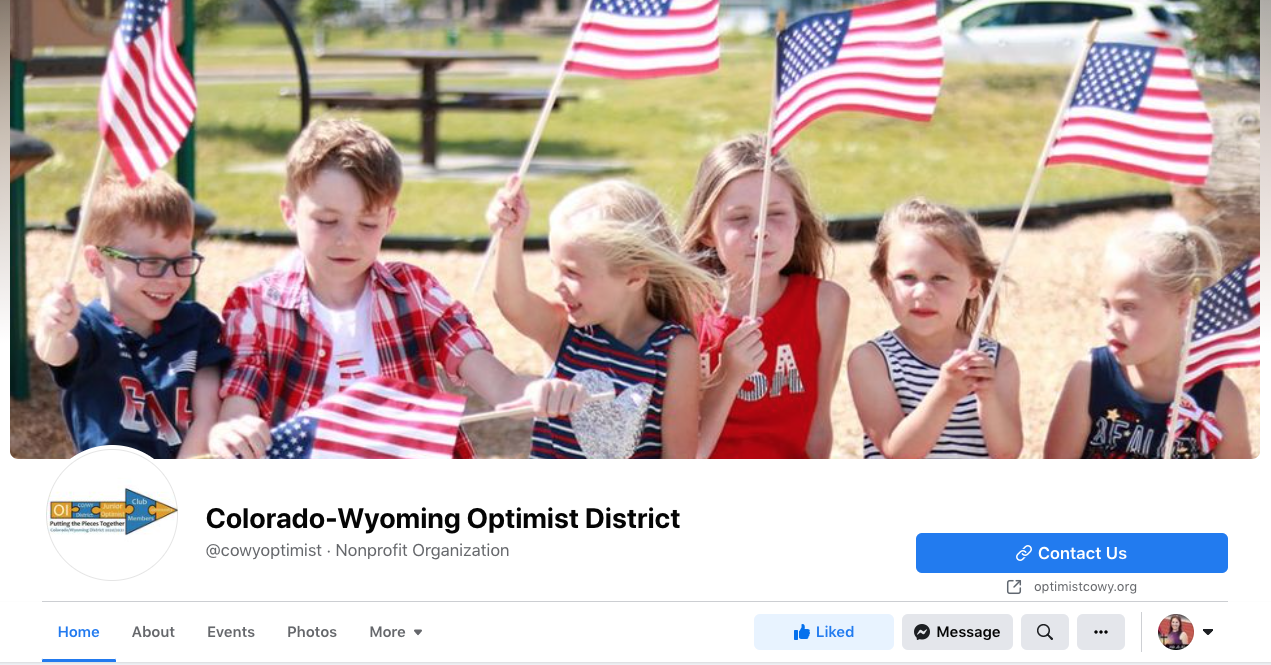 a running start with the help of his program. Nicole Powell can come to your club and show you how to create a Facebook page in under 5 minutes and show you how it works in under 15. She will help as well with other technology and social media questions.
Nicole Powell, Social & Technology Chair, nicolephotography@yahoo.com, 719-313-9497.

Colorado/Wyoming Optimist Club Information
Coming soon!
Find a Club near you: https://www.optimist.org/member/clubdirectory/club.cfm?district=25