DISTRICT & CLUB INFORMATION
CO/WY Optimist Member Awards
3 Members Awards:
The 3 Member Awards are to be presented to an Optimist who has brought in 3 or more new members. A $50.00 gift card will be presented quarterly.
District Awards:
(Nomination by the Club President)
Project or Fundraiser of the Quarter: Awarded to a Club that has been creative & has thought out of the box on a project or had a Fundraiser event that was successful & benefited their club or community. A $50.00 donation to the Club will be presented at the next Conference or Convention.
Optimist of the Quarter: An Optimist who steps up, embraces the Creed and continues to provide exceptional support to their club & their community. A $50.00 gift card will be presented at the next Conference or Convention.
Deadline Dates:
1st Quarter:  October 18, 2021
2nd Quarter: February 1, 2022
3rd Quarter:  May 9, 2022
Convention:  August 15, 2022
All submissions can be sent in free form to Charlie Neumann. Please let her know what the person or club had done to recognize their efforts or project. Any questions please contact Charlie.
Contact:   Charlie Neumann 303 766-9649   Email: neumann-charlie@comcast.net
Officer Training
Training for Lt. Governors, Club Presidents and Secretary/Treasurers must be completed by December 1st. Officers must use Optimist International's new Learning Management System (LMS) to complete their mandatory training. It is free for officers. Please go here for more information: https://www.optimist.org/member/learning-management.cfm
The following Training videos, Powerpoints and/or PDFs can be found under the Members tab in the top right corner of the website:
Club Secretary/Treasurer Training
New Club President Training
Veteran Club President Training
Lt. Governor Training

Contact Charlie Neumann, Gunar Neuman or Nicole Powell for questions.  
2021 Oratorical
If you would like information on how to put on a virtual Oratorical Contest, please go here for more information: https://www.optimist.org/documents/Online_Oratorical_Guidelines.pdf

2021 Brain Bowl
Due to Covid, we are doing a modified Brain Bowl. Please check out the Brain Bowl Powerpoint for details: Brain Bowl 2021 Powerpoint

Please go here for Volunteer information & training:
https://www.facebook.com/events/2810645972489939/
PGI (Professional Growth & Improvement)
The PGI Program offers 7 basic tenets allowing club members to have an opportunity to become involved in Personal Growth and Involvement, both personally and for their club and district. From the day a member accepts their own PGI Passport the road to Leadership and increased involvement in the mission of Optimists is greatly enhanced. As the member works their way through the 10 levels of accomplishment wonderful things manifest. Validation of involvement in Club activities, Membership Growth and increased camaraderie are but a few benefits of the PGI Program. PGI is based on supporting the standards of being a good Optimist, benefits received when joining an Optimist Club, new leadership challenges, recognition for accomplishments, better understanding of the O.I. Organization, worldwide promotion of our Optimist philosophy and the personal support rendered to Club Presidents on a yearly basis.
Larry Brown, PGI District Chair
Respect for Law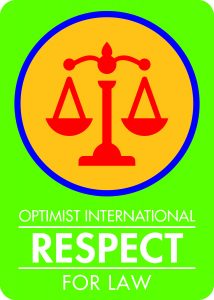 Susan and John Swanborg, Respect for Law Chairs, jswanborg@comcast.net

Social Media & Technology
Clubs looking to get a Facebook page or a website can get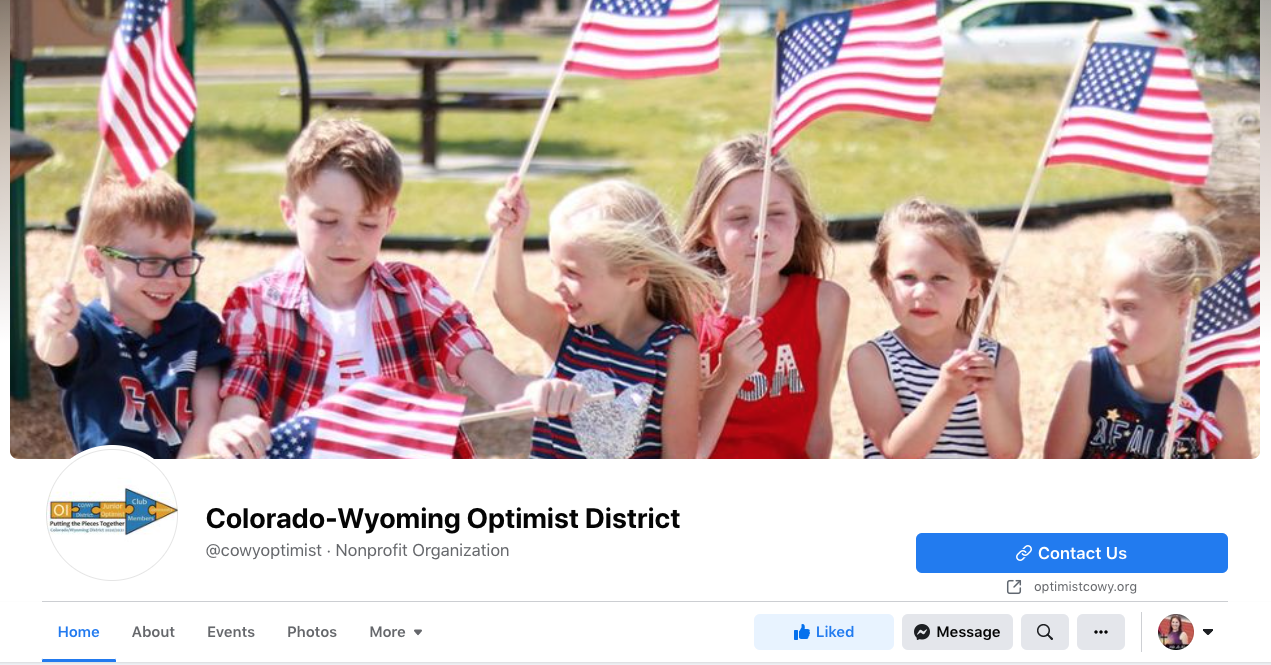 a running start with the help of his program. Nicole Powell can come to your club and show you how to create a Facebook page in under 5 minutes and show you how it works in under 15. She will help as well with other technology and social media questions.
Tracie Peterson, Social Media Chair, tpeterson1200@gmail.com

Colorado/Wyoming Optimist Club Information
Coming soon!
Find a Club near you: https://www.optimist.org/member/clubdirectory/club.cfm?district=25