Communication Contest
for the Deaf and Hard of Hearing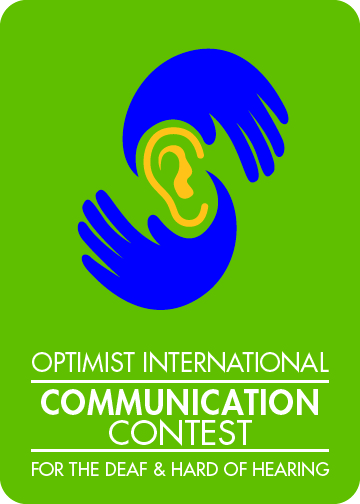 The Communication Contest for the Deaf and Hard of Hearing
$5000 in Scholarships are Offered
Topic: "Discovering the Optimism within Me"
What: This contest offers an opportunity for children who are deaf or hard of hearing to
present their thoughts in the community, gaining skills, which can only come from
signing or speaking to an audience. Two $2,500 scholarships are offered, one to a
student who communicates using sign language and another to a student who
communicates orally.
Who: The contest is open to young people through grade 12. Students must submit the
results of an audiogram1
, completed by a qualified audiologist no longer than 24 months
prior to the date of the contest (April 29, 2023). Students must be certified to have a
hearing loss of 40 decibels or more.
How To Enter: Interested students should contact their local Optimist Club. To find
out the contact in your area, please e-mail joepriester@hotmail.com.
When: The deadline to enter is determined by the sponsoring Club.
Clubs and Districts, The deadline for Clubs to submit their winner to the next level of
competition is Tuesday April 25, 2023. All presentations are in VIDEO format.
The District Finals will be held at the Family Resource Pavilion
9700 E Easter Lane, Centennial, CO 80112 on Saturday April 29, 2023.
Competition will begin at 9AM, please be early to register and finish any necessary
paperwork.
For more information please contact:
Joe Priester, District CCDHH Chair
2692 Marston Heights Colorado Springs, CO 80920
(719) 590-1217 (630) 522-2765 FAX joepriester@hotmail.com
NOTICE: All Presentations may be given in VIDEO form using either Zoom or
another compatible format.
1-For children with a cochlear implant, please include the most recent programming report. If your
child uses a cochlear implant and a hearing aid, only a Cochlear Implant programming report is
required. Please do not include an audiogram in lieu of a programming report