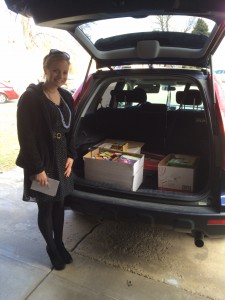 Thank you all for the great comments about the Quarterly Conference in February!  It sounds as though everyone had a great time and got a lot out of the presentations and we appreciate that.  Our AV team worked hard to bring you inspiring and fun video presentations and we think they did a fantastic job!
THE BOOK DRIVE went fabulously, thanks to you!
We collected over 200 books that were presented to Andrea Tagtow, the Executive Assistant at CASA, Advocates for Children.  The facility at Bethany Drive in Aurora will be starting up their Learning Center soon and our donation of children's books will give them a big boost to get this program up and running, so thank you all again and again!
Advocates for Children has been invited to speak at the Denver Tech Center Club soon and they are available to present their program to your club as well.
You can call Andrea at 303-695-1882 to set up a speaking engagement to learn more about  CASA (Court Appointed Special Advocates).