by Paul Simon
… have you ever missed out!
The good news is that the 2015 tournaments for 6th, 7th and 8th graders are nearly upon us. Or as reader leader Karl Geil trumpets when he speaks to his home Monaco South Optimist Club starting in the fall, "The Brain Bowl is Coming! The Brain Bowl is Coming!"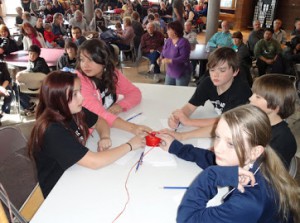 The Brain Bowl gathers middle-grade students from around Colorado and Southern Wyoming into three regional tournaments and a championship. The kids face off in teams of up to 5 players in the morning rounds. After lunch for the kids and the volunteers, the top teams square off in playoffs leading to the finals round. Then the winning teams get their medals.
There simply is nothing like the Brain Bowl in in terms of learning and fun — for the kids and the volunteers.
More than 1,000 kids take part on Brain Bowl Saturdays. We need 120-150 Optimists and friends at each event to serve as readers, runners, timers, scorekeepers and more. Learn more at www.optimistbrainbowl.org, and if you'd like to volunteer, email ,me, our volunteer chair, at paul.simon@optimistmail.org.
Events dates in 20115 are:
North Region, Jan. 10, Westminster
Central Region, Jan. 31, Littleton
South Region, Feb. 7, Colorado Springs
Champioinships, Feb. 21, Denver
No prior experience is necessary. Those wishing to be readers must attend a reader training session (details at www.optimistbrainbowl.org. Email Karl Geil with questions or to sign up.)  Other volunteers are trained at 7 a.m. the morning of each Brain Bowl tournament.
What country invaded the Philippines in 1941?
A comet's dust tail is longest when the comet is nearest what heavenly body?
What is the noun phrase in this example? Linda saw several large caribou in her yard.
Yes, those are real questions from a Brain Bowl. Sometimes the kids know the answers. Somethings they don't and the audience gets a crack at them.
Ready? You have 15 seconds to buzz in with your answers …