PROGRAMS
Optimist programs promote Optimism as a philosophy of life by bringing out the best in kids. The programs listed here are sponsored by Optimist International and are supported by the Colorado/Wyoming Optimist District or are sponsored solely by the district. Individual clubs choose whether to participate and also create their own projects & events as well.
If you are interested in finding a club near you, visit the Optimist International Club Directory.
Brain Bowl
Please go here for all the results of the 2021 Brain Bowl:
https://www.optimistbrainbowl.org/championshipresults.html
In a "normal" year, the Optimist Brain Bowl is a high-energy academic quiz program for teams of 6th, 7th & 8th grade students, with Optimists serving as organizers and game officials.  Approximately 1200 Colorado/Wyoming students participate annually in three regional tournaments and one championship tournament. Teams of up to five students compete in a series of simultaneous team-to-team contests in a round-robin format, then move to single elimination contests among the best of the round-robin teams. More 100 Optimists serve at each contest as "game-show-hosts," timers, scorekeepers, runners, checkers and in other positions. Optimists who wish to be room readers must attend advance training; all other volunteers are trained on the morning of the events  The contests are generally in January-February. Full information and dates are at OptimistBrainBowl.org.
Please go here for Volunteer information & training:
https://www.facebook.com/events/2810645972489939/
Rich Urbanowski, Brain Bowl Co-Chair, mrurban3@gmail.com, 303-986-0964
Connie Ackerman, Brain Bowl Co-Chair, connieackerman@comcast.net, 303-798-6434
Oratorical Contest
2021-2022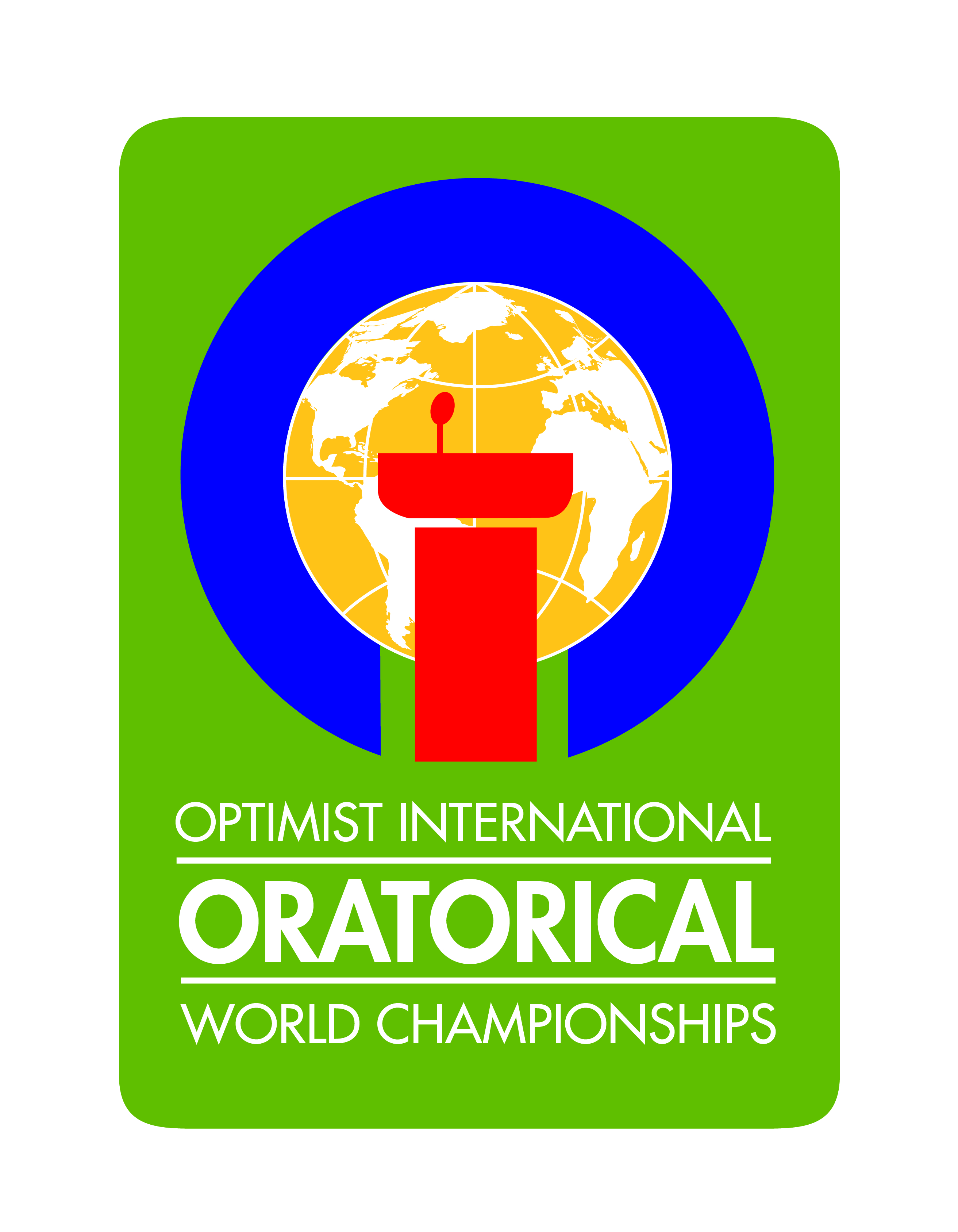 "Staying Optimistic in Challenging Times" is the topic of the 2021-2022 Oratorical Contest. This is a great opportunity for a student to earn up to $22,500 in scholarship money! The contest is a combined gender contest. The contest is open to students who have not reached their 19th birthday before October 1, 2021 and have not graduated from High School. There is no minimum age or grade level requirement. All Clubs must have completed their Club contest on or before March 26, 2022. The 1st and 2nd place Club winners will advance to the Zone contest.
Clubs must submit all Oratorical paperwork with the Club's check made out to the Colorado-Wyoming District in the amount of $20.00 per contestant to:
Steve Gorrell, 14734 Vine Street, Thornton, CO 80602
by April 2, 2022 for the Regional Contest.
Please click here for the 2021 Oratorical Planning Guide & Application:
2021-2022 Oratorical Contest Application
Please click here to find out how to hold a virtual Oratorical Contest:
https://www.optimist.org/documents/Online_Oratorical_Guidelines.pdf
If you have any other questions contact your Lt Governor or Steve Gorrell, District Chairperson: sgorrell1@yahoo.com or 303-920-2366
Communication Contest for the Deaf and Hard of Hearing (CCDHH)
2020-2021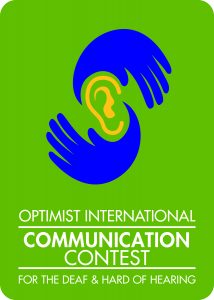 Nearly identical to the Optimist Oratorical Contest, CCDHH offers two scholarships of $2,500 each. One is for a student who will present in sign language and another for a student who will present orally. The second scholarship is funded from contributions collected in the Colorado/Wyoming District. Due to the low number of students in the deaf community we do not have Zone contests but rather rely on clubs to work with teachers and parents to identify anyone who might want to participate, then give them a chance to practice at a club meeting before competing for the scholarships at the District level on the same date as the Oratorical Contest competitors.
This year those contests will be held at the District 3rd Quarter Conference on April 24, 2021 at Bethany Lutheran Church 4500 E. Hampton Ave. Cherry Hills Village, CO 80113.
"Healing the World with Optimism" is the topic of the 2020-2021.
For an application with contest rules, click here.
Joe Priester, District CCDHH Chair, joepriester@hotmail.com
2692 Marston Heights Colorado Springs, CO 80920, Home: (719) 590-1217, Cell: (719) 648-0935
Visual Arts Competition
2021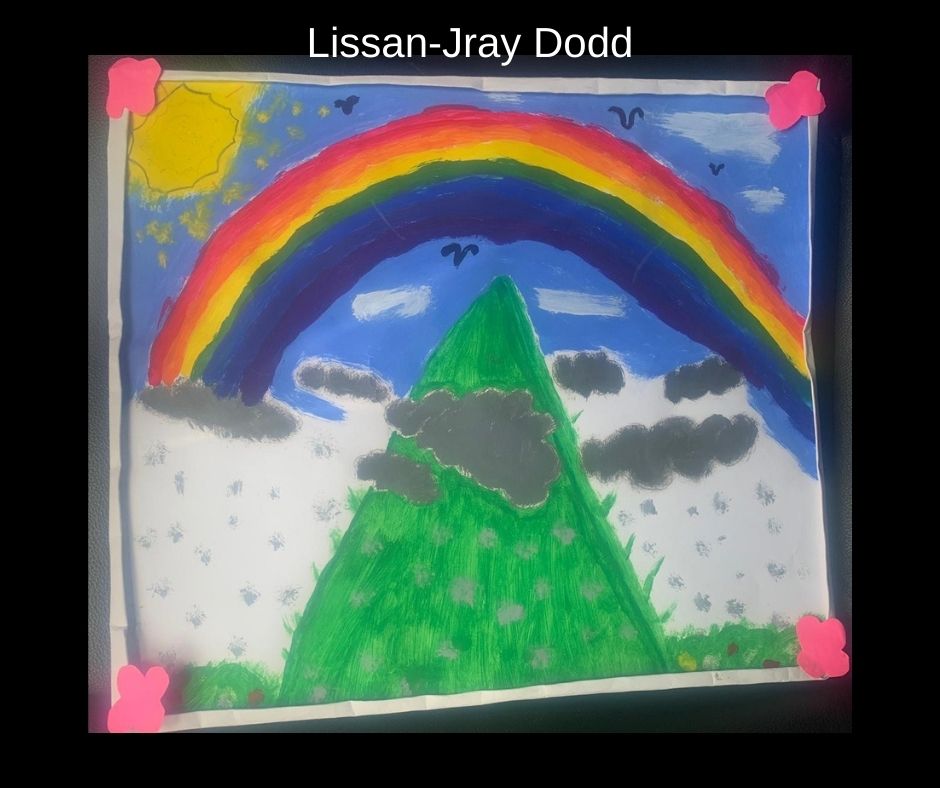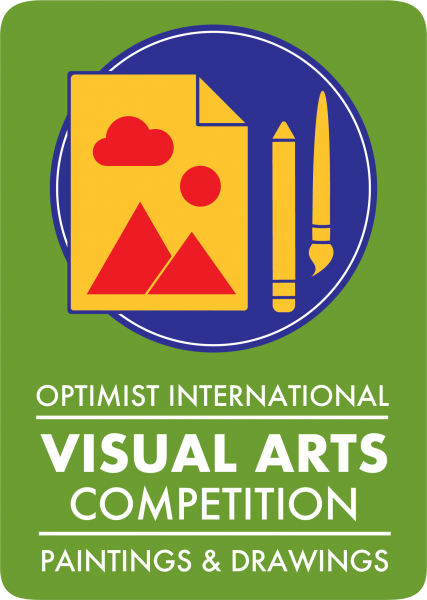 The OI Visual Arts Competition is a skills competition for kids 11 and younger. There are two categories: Painting & Drawing.
Click here for the OI Visual Arts Competition Rules & Forms:
2021 OI Visual Arts Competition
OI Visual Arts Competition Youtube Info Video:
https://youtu.be/ePwNf1-KmO8 
BJ, Community Competitions Chair, 
Essay Contest
2020-2021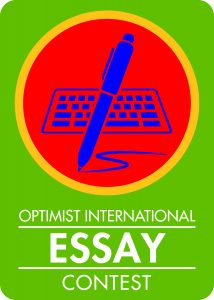 SOME TIPS TO A SUCCESSFUL CONTEST:
Select a club essay chair and notify Jane by email. She can be a support to your chair, share flyer and certificate ideas, remind people of deadlines,
and can send students' names who contact her and need a club sponsor.
Have the chair visit the Optimist International web site…www.optimist.org… Members… Programs…Scholarship Contests…Essay… the entry forms and all information are there. The essay should be 700-800 words.
This year's topic is "

Reaching your Dreams by Choosing Optimism

."
Deliver a packet (letter, flyer, and  5 or more entry  forms ) to the high school or middle school your club supports.
Deadline should be shortly after February 1st..
Arrange for 3 judges to review the essays independently. Judges may be club members.
Our club invites the 1st, 2nd and 3rd place winners and their parents as well as the teacher we work with and the school principal to a meeting. We have the 1st place winner read the essay and present certificates to the students. You may also prepare certificates for each student who participated in the contest.
Clubs are allowed to give monetary awards of up to $500 per winner for the Essay contest in addition to official medallions or certificates. The Club level awards may be given in the form of a scholarship, savings bond or cash prize but are completely discretionary.
Another positive gesture is to send each participant a card thanking them for their entry and have the Optimist Creed in it.
Be sure to send your winning essay, birth certificate, and forms to Phil Perrington at the address below. It must be postmarked by February 28, 2020! Include a $20 check to CO/WY Optimist District.

CO-WY DISTRICT ESSAY CHAIR: Phil Perrington, perington@msn.com, (303) 832-4578,
5353 West Dartmouth Ave Suite 509, Denver, CO 80227
HOBY Liaison
HOBY (Hugh O'Brian Youth Leadership) Colorado puts on a leadership seminar over a 4 day "weekend" every June for high school students who have just finished their sophomore year.  The mission is to motivate and empower them to make a positive difference within our society through understanding and action based on effective and compassionate leadership. Core values of the program include Leadership as Service, Volunteerism, Integrity, Excellence, Diversity, and Community Partnerships. The first HOBY leadership seminar took place in Colorado in 1978. Over the years 95% of the counties have been represented at our seminars. Learn more at hoby.org and hobycolorado.org.
Paul Bernard, HOBY Colorado Chair, pbernard@hobycolorado.org, 720-339-8025
Junior Golf
2021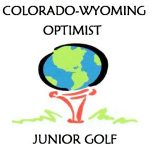 The Optimist International Junior Golf Championships (commonly referred to as THE OPTIMIST) is one of Optimist International's major youth programs for boys and girls ages 10 – 18 and is one of the largest and best-known junior golf events in the world. More than 3,000 boys and girls across the United States, Canada, Mexico, and several dozen other foreign countries compete in official Optimist qualifying tournaments. The best of these junior golfers, along with additional international junior golfers from around the globe, advance to THE OPTIMIST.
Each year, THE OPTIMIST is held at Doral Resort – Miami FL and fields over 600 of the world's best junior golfers from more than 28 countries around the globe. In addition to top-level tournament golf, junior golfers have the opportunity to make new friends and to have a great deal of fun. What makes THE OPTIMIST unique from other tournaments, junior golfers and their guests are housed, play golf, enjoy group meals, special events, entertainment, and fun all at a world-class resort. College coaches come from all over the U.S. to scout some of the best junior players in the world.
Past age group winners at THE OPTIMIST (and its predecessor, the Optimist Junior World Golf Championships) include Denver's own Mark Hubbard, Tiger Woods, Phil Mickelson, Ernie Els, Davis Love III, Lorena Ochoa, Beth Bauer, Nancy Lopez, Brittany Lincicome, Lexi Thompson, Brooke Henderson, and Jason Day, among dozens of prominent PGA and LPGA golfers.
The Colorado-Wyoming District Optimist Junior Golf Program is recognized as the best Junior Golf Program in all of Optimist International and serves over 400 junior golfers each year. The best of these golfers will qualify for THE 2021 OPTIMIST.
The 2021 District qualifying tournaments will be held Friday, June 4, at Flatirons Golf Course in Boulder (boys ages 10 – 15); Thursday, June 10, at Flatirons Golf Course in Boulder (boys ages 16 – 18); and Friday, June 18 at Overland Golf Course in Denver (girls ages 10 – 18). A total of about 300 golfers will tee off in those three events, competing for 70 spots at THE 2021 OPTIMIST.
An additional 25 – 30 junior golfers will participate in 2021 in pre-qualifying tournaments in Loveland and Fort Morgan, sponsored by Optimist Clubs in those areas.
In October 2020, we held the 5th Annual 36-hole Optimist Junior Golf Tour event at Green Valley Ranch Golf Club in Northeast Denver. This was a new event for us starting in 2016 and, because of its success, has become an annual event, welcoming golfers from around the country. A total of 120 golfers teed off, competing for an additional 20 spots at THE 2021 OPTIMIST.
The Colorado-Wyoming District Optimist Junior Golf Program is totally self-funded. We sent 66 junior golfers to THE 2019 OPTIMIST and raised over $ 45,000 for that purpose.
We were able to give $ 1,000 to each of the seven age group winners and 47 other qualifiers from the 2019 District qualifying events. With additional slots for THE 2021 OPTIMIST, we will need to raise about $ 50,000 to provide the same amount of financial support for the 2021 age group winners and other qualifiers.
To boost our fund-raising activities in 2021, we will hold an adult scramble fundraising tournament and silent auction on May 18 at Saddle Rock Golf Course in Aurora.
We will also solicit title, hole, banner, and player sponsors for the qualifying tournaments at Flatirons and Overland from many Colorado-Wyoming District Optimist Clubs and individual Optimists and friends of Optimists and their businesses.
In addition, we solicit cash and in-kind donations from local golf courses, parents of our junior golfers, and the general public.
Please continue to help support the Colorado-Wyoming Optimist District Junior Golf Program "Bring Out the Best in Kids" by becoming a Junior Golf Program Sponsor or donate to Jr. Golf.
Download the form here:  Junior Golf Sponsor
For further information, please contact:
Bob Meyer, Junior Golf Tri-Chairman, meyerrob@comcast.net, 303-919-4532
Joe Marci, Junior Golf Tri-Chairman, jmarci899@gmail.com, 303-771-3748
Ron Cisco, Junior Golf Tri-Chairman, ciscoron@msn.com, 303-794-0749
JOI – Junior Optimist International
2020-2021

The Colorado/Wyoming District JOI (Junior Optimist International) Committee is concerned with helping our Optimist Clubs bring "JOI" to their community by aiding our young people to step out and help others. There is nothing more exciting than finding that you have the power to make a difference in the lives of others in your school, neighborhoods, community, and the world! As our youth join together to "make that difference" for others, they become empowered and their self-esteem soars! The committee helps Optimist Clubs in our District develop JOI Clubs in schools, churches, Boys and Girls Clubs, and anywhere that youth gathers to develop community.
As of now, the Colorado/Wyoming District has 20 chartered, up and running JOI Clubs.
High Schools:
Vista Ridge
Sand Creek
Summit Lake Dillon
Phoenix Rising
Dakota Ridge
Middle Schools:
Horizon
Place Bridge Academy
Edna
John Mosley P-8
Summit Ridge
Chocolate Chip Everitt
Elementary Schools:
Keller
Chinook
Bradley
Powderhorn
Scott
Non-school based clubs:
Kidz Partnering
JOI Kittens
Kids of Inspiration
These young Optimists are making quite a difference in their communities.  Therefore, we have created a Colorado/Wyoming Optimist JOI District.
The District JOI team includes Optimists interested in expanding the leadership opportunities for kids and to coordinate some interactions among the JOI Clubs of this District meets to help plan the annual JOI Convention.
Our 2020-2021 Governor is Makenna Weiner, our 2020-2021 Secretary Treasurer is Rachel Jacks and our 2020-2021 Governor-Elect is Emma Schlosser. They now attend all District Conferences, plan the District JOI Convention, attend the OI International Conventions, and work to build and coordinate new and existing JOI Clubs.
For further information, please contact:
Makenna Weiner, CO/WY JOI Governor,makennajow@gmail.com
Linda McDonald, JOI Co-Chair (North), lindamcdonald1717@msn.com, 720-244-7206
Liz Farley, JOI Co-Chair (South), eafarley1@gmail.com, 719-271-1221
Literacy and BUG (Bringing Up Grades)
Literacy is a high priority by Optimists. A number of activities supporting literacy are sponsored by Optimists at various levels such as: International (Essay contest, Oratorical contests, and Internet Safety courses), District 25 (Brain Bowl), and club (mentoring, reading, and book donations). Bringing up Grades (BUG) awards are popular programs to recognize students who are making an effort to do better in school. Literacy Co-Chairs provide information these and other literacy projects by publishing a list of current projects. Each year there is a literacy banner patch for clubs that sponsor at least one literacy project during the year. An annual report is expected from each club by the end of October.
Literacy Handout 2014-2015 Literacy Intro Literacy Report 2014-2015
Clara Sitter, Literacy and BUG Co-Chair, 303-795-5517
Jeanette Thompson, Literacy Co-Chair jeanettethompson@comcast.net, 303-750-0792
Tri-Star Basketball
2020-2021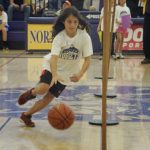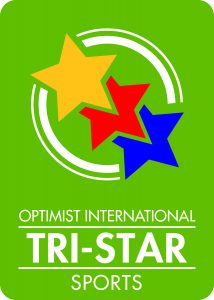 Tri-Star Basketball is a district-wide skills competition for boys and girls age 8 – 13 that tests abilities in passing, shooting and dribbling. Optimist volunteers register about 1500 kids in local competitions, set up the competition in a gymnasium, administer and score each kid's effort and then provide awards to the winners. Local competitions are held in January and February and the 3 top scoring kids in each gender/age bracket (36 kids) are invited to compete in one of 4 Regional Competitions. The Final Competition is held in conjunction with a Denver Nuggets game – usually in late March or early April. If scheduling allows, the competition is held on the floor of the Pepsi Center in the afternoon before that night's game. Full information is at www.tristarbasketball.org.
Phil White, Tri-Star Basketball Co-Chair, 970-534-0360
Joyce Laman, Tri-Star Basketball Co-Chair, 303-903-7607
Members:
Kevin Keilbach, 719- 429-7965
Ron Benson, 720-879-3927
Michael Chavez, 303-960-5304
Childhood Health & Wellness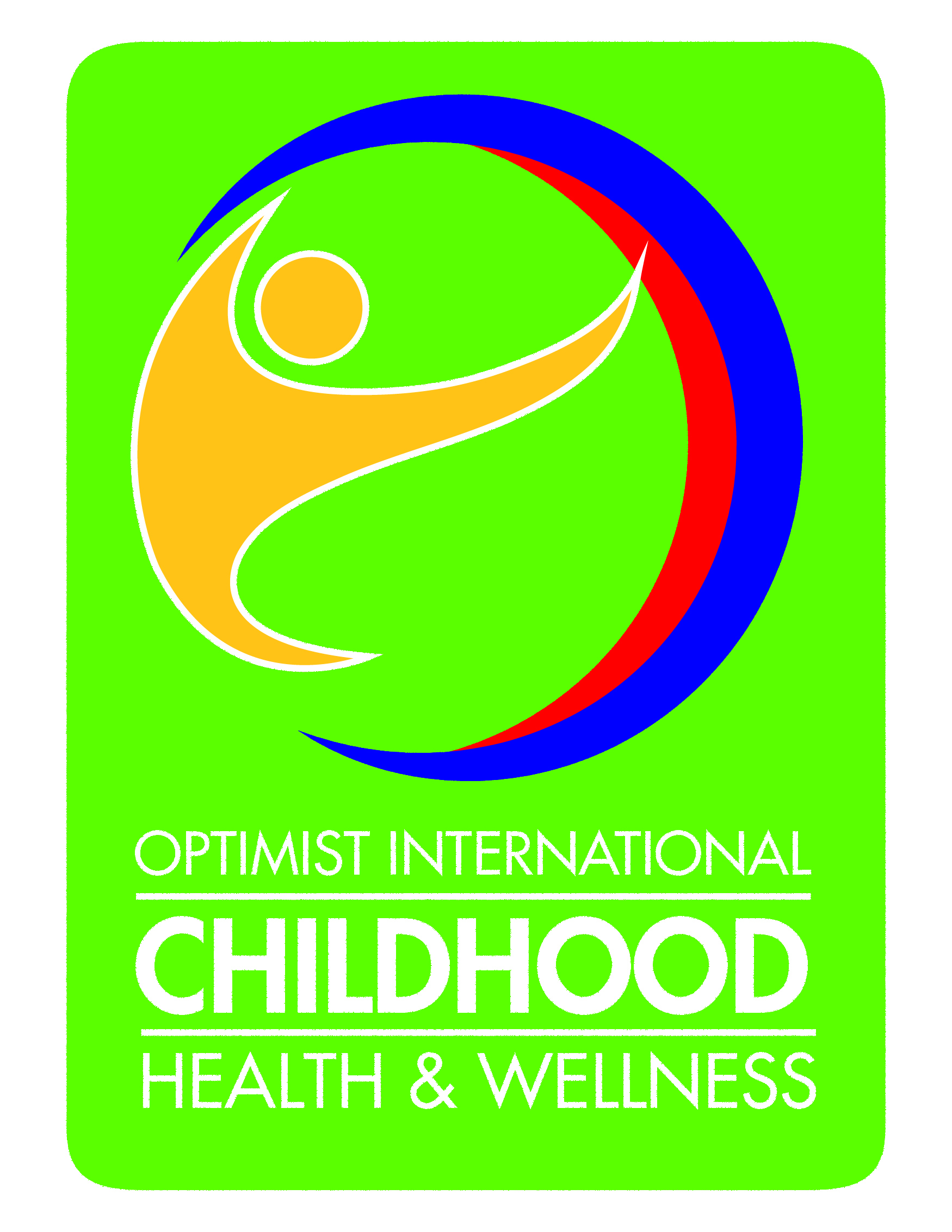 In response to requests from Optimist Clubs and recognizing the broad range of childhood health-related issues, Optimist International and our Foundations are excited to announce the Childhood Health & Wellness Program.
The Childhood Health & Wellness Program will build on the highly successful Childhood Cancer Campaign to expand our impact. Clubs and Districts will now have the opportunity to initiate projects and services to improve the quality of life for children in their communities across a broader spectrum of needs.
Childhood Health & Wellness will include four focus areas (not limited to the examples below):
Healthy Lifestyles

 

(Child Obesity, Healthy Eating, Physical Fitness, Happy Heart Advice, March of Dimes)
Chronic Diseases

 

(Childhood Cancer, Juvenile Diabetes, HIV, Multiple Sclerosis, Muscular Dystrophy, Sickle Cell Anemia)
Mental Health

 

(Depression, Bullying, Abuse)
Disabilities – Physical, Intellectual & Developmental

 

(Autism, Special Olympics)
Bill Cassel, CCC Chair, bcassel3@comcast.net, 303-748-3148